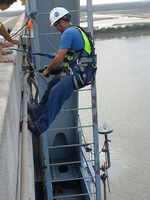 Active language
Translated to English
Safety belt
A safety belt is a device that is worn around a person's waist to serve as a direct connection point to a lifeline or elevated structure. It is worn to arrest a fall and protect a worker from a sudden descent and associated hazards when working at an elevated height.
Translated to Greek
ζώνη ασφαλείας
Μια ζώνη ασφαλείας είναι εξοπλισμός που φοριέται γύρω από τη μέση ενός ατόμου για να χρησιμεύσει ως σημείο άμεσης σύνδεσης σε μια σωτήρια ή ανυψωμένη δομή. Προστατεύει τον εργαζόμενο από απότομη πτώση, αιφνίδια κάθοδο και τους σχετικούς κινδύνους όταν εργάζεται σε ανυψωμένο ύψος.
Translated to Swedish
Säkerhetsbälte
Ett säkerhetsbälte är ett verktyg som bärs runt midjan för att agera direkt knytpunkt till en livlina eller hög höjd. Den bärs för att skydda arbetaren från plötsliga fall och faror som hör till när man arbetar på hög höjd.
Translated to Espanõl
Arnés de seguridad
Un arnés de seguridad es un aparato que una persona lleva en la cintura que sirve como punto de unión para una estructura elevada o una línea de vida. Se lleva para evitar las caídas y proteger al trabajador de una caída súbita o de otros riesgos asociados a trabajar en una altura elevada.
Translated to Arabic
حزام الأمان
حزام الأمان عبارة عن أداة يتم ارتداؤه حول الخصر ليكون بمثابة الصلة المباشرة بحبل السلامة أو بالبنية المرتفعة لأنه يحمي العامل من السقوط المفاجئ والمخاطر المرتبطة به عند العمل على ارتفاعات عالية. قضيب رفيع يشبه بندقية تطبيق السيليكون
Translated to France
Harnais de sécurité
Un harnais de sécurité est un dispositif qu'une personne porte autour de la taille et qui sert de point de fixation pour une structure élevée ou une ligne de vie. Il est porté pour éviter les chutes et pour protéger le travailleur d'une chute brutale ou d'autres risques liés au travail en hauteur.
Translated to Russian
Предохранительный пояс
Предохранительный пояс - это устройство, которое надевается на талию человека и служит прямой точкой соединения с канатом или самим сооружением. Его надевают, чтобы предотвратить падение и защитить работника от внезапного падения и опасностей при работе на высоте.
Translated to Albanian
Rrip sigurimi
Një rrip sigurie është një pajisje që vishet rreth belit të një personi për të shërbyer si një pikë e drejtpërdrejtë lidhje me një strukturë shpëtimi ose të ngritur. është e veshur për të arrestuar një rënie dhe për të mbrojtur një punëtor nga një prejardhje e papritur dhe rreziqe të lidhura kur punoni në një lartësi të ngritur.