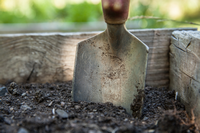 Active language
Translated to English
Spade
A tool for digging, having an iron blade adapted for pressing into the ground with the foot and a long handle commonly with a grip or crosspiece at the top, and with the blade usually narrower and flatter than that of a shovel.
Translated to Greek
φτυάρι
Ένα εργαλείο χειρός για την ανύψωση του χαλαρού υλικού, για να σκάβει με την πίεση στο έδαφος με το πόδι. Αποτελείται από ένα κυρτό δοχείο ή σέσουλα και μια λαβή ή εγκάρσιο τεμάχιο στην κορυφή. Η λεπίδα είναι συνήθως στενότερη και πιο επίπεδη από εκείνη ενός τυπικού φτυαριού
Translated to Swedish
Spade
Ett verktyg för grävning, med ett järnblad anpassat för att pressas ner i marken med foten och ett långt handtag vanligtvis med ett grepp eller tvärstycke upptill, och med bladet vanligtvis smalare och plattare än det hos en skyffel.
Translated to Espanõl
Pala cuadrada
Una herramienta para cavar, con una hoja de hierro adaptada para hacer fuerza en el suelo con el pie. Tiene un mango largo, normalmente con un asa o una pieza perpendicular en la parte de arriba para poder sujetarla. El filo de la pala cuadrada es normalmente más estrecho y plano que el de una pala normal.
Translated to Arabic
محفر
أداة للحفر مكونة من شفرة حديدية مناسبة للضغط على الأرض بالقدم ومقبض طويل عادة بقبضة أو قطعة عرضية في الطرف الأعلى وعادة ما تكون الشفرة أضيق وأسطح من شفرة المجرفة
Translated to France
Pelle carrée
Un outil pour creuser, avec une lame de fer adaptée pour faire force au sol avec le pied. Elle a une longue poignée, généralement avec une poignée ou une pièce perpendiculaire sur le dessus pour le maintenir. Le bord de la lame carrée est normalement plus étroit et plus plat que celui d'une pelle normale.
Translated to Russian
Штыковая лопата
Инструмент для копания, имеющий железный клинок, приспособленный для вдавливания в землю ногой, с длинным черенком, обычно с рукояткой или крестовиной наверху, причем лезвие обычно более узкое чем у обычной лопаты.
Translated to Albanian
lopatë
Një mjet për gërmim, që ka një tel hekuri të përshtatur për presion në tokë me këmbë dhe një dorezë të gjatë zakonisht me një dorezë ose kryqëzim në krye, dhe me hekur zakonisht më të ngushtë dhe më të sheshtë se ai i lopatës.