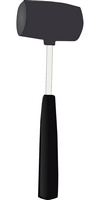 Active language
Translated to English
Rubber Mallet
A short-handled hammer, usually with a cylindrical head of wood, used chiefly to drive a chisel or wedge.
Translated to Greek
ελαστικό σφυρί
Ένα ελαστικό σφυρί, συνήθως με κυλινδρική κεφαλή ξύλου, χρησιμοποιείται κυρίως για να οδηγήσει μια σμίλη ή σφήνα.
Translated to Swedish
Gummihammare
Hammare med kort handtag, vanligtvis med ett cylinderformat trähuvud som används främst för att slå på en kil eller huggmejsel.
Translated to Espanõl
Mazo de plástico
Un martillo con un mango corto, normalmente con una cabeza pequeña de plástico, goma o cuero, usado principalmente para introducir una cuña o manejar un cincel.
Translated to Arabic
مطرقة مطاطية
مطرقة ذات مقبض قصير، عادة برأس أسطواني من الخشب، تُستخدم أساسا لطرق الإزميل أو الإسفين
Translated to France
Maillet en plastique
Un marteau à poignée courte, qui a généralement une tête petite en plastique, en caoutchouc ou en cuir, utilisé principalement pour enfoncer une cale ou enfoncer un buril.
Translated to Russian
Резиновый молоток
Молоток с короткой ручкой, обычно с цилиндрической деревянной головкой, используется главным образом для забивания зубила или клина.
Translated to Albanian
çekiç gome
Një çekiç elastik, zakonisht me një kokë prej druri cilindrike, përdoret kryesisht për të përzënë një daltë ose pykë.