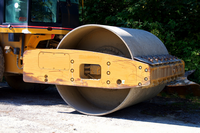 Active language
Translated to English
Roller
A road roller (sometimes called a roller-compactor, or just roller) is a compactor type engineering vehicle used to compact soil, gravel, concrete, or asphalt in the construction of roads and foundations.
Translated to Greek
κύλινδρος
Ένας κύλινδρος οδοστρώματος (μερικές φορές ονομάζεται κύλινδρος ή απλά κύλινδρος) είναι ένα οδικό μηχάνημα τύπου συμπιεστή που χρησιμοποιείται για τη συμπύκνωση εδάφους, χαλίκου, σκυροδέματος ή ασφάλτου στην κατασκευή δρόμων και θεμελίων.
Translated to Swedish
Vält
En vägvält (ibland kallad en kompaktor, eller bara vält) är ett teknikfordon av kompaktortyp som används för att komprimera jord, grus, betong eller asfalt vid konstruktion av vägar och fundament.
Translated to Espanõl
Apisonadora
Una apisonadora (aplanadora o compactadora estática) es un vehículo utilizado para compactar tierra, gravilla, cemento o asfalto al construir carreteras y cimientos.
Translated to Arabic
مدحلة
مدحلة الطرق (تسمي أيضا الضاغطة أو المدحلة فقط) عبارة هن مركبة هندسية من نوع الضاغط تستخدم لضغط التربة أو الحصى أو الخرسانة أو الأسفلت أثناء بناء الطرق والأساسات
Translated to France
Rouleau compresseur
Un rouleau compresseur (ou compacteur statique) est un véhicule utilisé pour compacter le sol, le gravier, le ciment ou l'asphalte lors de la construction de routes et de fondations.
Translated to Russian
Каток
Дорожный каток (иногда его называют каток-уплотнитель или просто каток) - это инженерное транспортное средство типа катка, используемое для уплотнения грунта, гравия, бетона или асфальта при строительстве дорог и фундаментов.
Translated to Albanian
rul
Një rrotullues rruge (nganjëherë quhet një rul-kompaktor, ose thjesht rul) është një automjet inxhinierik i tipit kompaktor që përdoret për kompaktësinë e tokës, zhavorrit, betonit ose asfaltit në ndërtimin e rrugëve dhe fondacioneve.