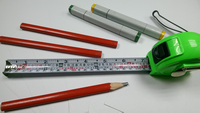 Active language
Translated to English
Steel Tape
Measuring instrument consisting of a narrow strip (cloth or metal) marked in inches or centimeters and used for measuring lengths
Translated to Greek
Χαλύβδινη μετροταινία
Όργανο μέτρησης που αποτελείται από μια στενή ταινία (ύφασμα ή μέταλλο), επισημαίνεται σε ίντσες ή εκατοστά και χρησιμοποιείται για τη μέτρηση μηκών
Translated to Swedish
Måttband
Mätverktyg som består av en smal remsa (tyg eller metall) med markerade tum eller centimeter och som används för att mäta längder
Translated to Espanõl
Metro
Un instrumento de medida que consiste en una tira estrecha (tela o metal) que está dividida en centímetros o pulgadas y se utiliza para medir.
Translated to Arabic
شريط قياس صلب
أداة قياس تتكون من شريط ضيق (قماش أو معدن) معلمة بالبوصة أو السنتيمتر وتستخدم لقياس الأطوال.
Translated to France
Mètre
Un instrument de mesure composé d'une bande étroite (en tissu ou en métal) divisée en centimètres ou en pouces et utilisée pour mesurer.
Translated to Russian
Стальная мерная лента
Измерительный прибор, состоящий из узкой полоски (ткани или металла), с разметкой в дюймах или сантиметрах, который используется для измерения длины
Translated to Albanian
Shirit matës çeliku
Instrument matës i përbërë nga një shirit i ngushtë (leckë ose metal) i shënuar në inç ose centimetra dhe përdoret për matjen e gjatësive