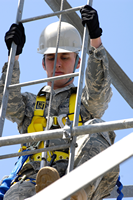 Active language
Translated to English
Safety Harness and Lanyard
Are a specific type of safety lanyard used in conjunction with safety harnesses as a part of a fall protection system. Generally, shock absorbing lanyards are used when working at a height of more than six feet above the ground.
Translated to Greek
καλώδιο ασφαλείας
Ένα καλώδιο ασφαλείας χρησιμοποιείται σε συνδυασμό με ιμάντες ασφαλείας ως μέρος ενός συστήματος προστασίας από πτώσεις. Σε γενικές γραμμές, κορδόνια απορρόφησης κραδασμών χρησιμοποιούνται όταν εργάζονται σε ύψος πάνω από έξι πόδια πάνω από το έδαφος.
Translated to Swedish
Säkerhetssele och taljrep
En specifik typ av säkerhetsskydd som används i samband med säkerhetssele som en del av ett fallskyddssystem. I allmänhet används stötdämpande taljrep när man arbetar på en höjd av mer än sex meter över marken.
Translated to Espanõl
Arnés de seguridad y disipador
Un lanyard se utiliza conjuntamente con el arnés de seguridad como parte de un sistema para prevenir caídas. Generalmente, los lanyards de absorción de golpes se utilizan cuando se trabaja a una altura de más de 1,8288 metros sobre el suelo.
Translated to France
Harnais de sécurité et dissipateur thermique
Une longe est utilisée conjointement avec le harnais de sécurité dans le cadre d'un système de prévention des chutes. Généralement, les longes d'absorption sont utilisées pour travailler à une hauteur de plus de 1,8288 mètres au-dessus du sol.
Translated to Russian
Предохранительный пояс и строп
Это специальный тип страховочного тросика, используемый вместе с страховочными ремнями как часть системы защиты от падения. Обычно стропы используются при работе на высоте более шести футов над землей.
Translated to Albanian
kabllo sigurie
Një kabllo sigurie përdoret në lidhje me rripat e sigurimit si pjesë e një sistemi të mbrojtjes nga rënia. Në përgjithësi, litarët që thithin dridhjet përdoren kur punoni në lartësi mbi gjashtë metra mbi tokë.