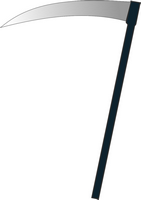 Active language
Translated to English
Scythe
An instrument for mowing grass, grain, or the like, by hand, composed of a long, curving blade, with a sharp edge, made fast to a long handle, called a snath, which is bent into a form convenient for use.
Translated to Greek
δρεπάνι
Ένα εργαλείο για το κούρεμα χόρτου, σιτηρών ή παρομοίων, με το χέρι, που αποτελείται από μια μακρά καμπύλη λεπίδα, με αιχμηρή άκρη, φτιαγμένη γρήγορα σε μια μακρά λαβή, που κάμπτεται σε μια μορφή κατάλληλη για χρήση.
Translated to Swedish
Lie
Ett instrument för att klippa gräs, spannmål eller liknande för hand, sammansatt av ett långt, krökt blad, med en skarp kant, fastsatt på ett långt handtag, som kallas orv.
Translated to Espanõl
Guadaña
Un instrumento para cortar la hierba, grano, o similares a mano. Está compuesto por una hoja larga y curva, con un filo afilado, sujeto a un mango largo, que tiene una forma adecuada para su uso.
Translated to Arabic
منجل
أداة يدوية لقص العشب أو القمح أو ما يشبه ذلك وتتألف من شفرة طويلة منحنية ذات حافة حادة مثبتة بمقبض طويل والذي ينحني من أجل الاستخدام المناسب
Translated to France
Faux
Un instrument pour couper l'herbe, le grain ou autre à la main. Il est formé d'une longue lame incurvée, avec un tranchant, attachée à une longue poignée qui est correctement façonné pour être utilisé.
Translated to Russian
Коса
Инструмент для скашивания травы, зерна или тому подобного вручную, состоящий из длинного изогнутого лезвия с острым краем, прикрепленного к длинной рукоятке, называемой черенок, изогнутой в удобную для использования форму.
Translated to Albanian
kosë
Një mjet për prerjen e barit, drithërave ose të ngjashme, me dorë, i përbërë nga një hekur i gjatë i lakuar, me një skaj të mprehtë, i bërë shpejt në një dorezë të gjatë, e cila përkulet në një formë të përshtatshme për përdorim.