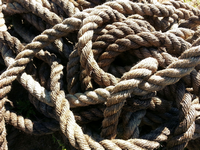 Active language
Translated to English
Rope
A large, stout cord, usually one not less than an inch in circumference, made of strands twisted or braided together.
Translated to Greek
σκοινί
Ένα μεγάλο, φαρδύ κορδόνι, συνήθως όχι μικρότερο από μία ίντσα στην περιφέρεια, κατασκευασμένο από νήματα συστραμμένα ή πλεγμένα μαζί.
Translated to Swedish
Rep
En stor, bastant kabel, vanligtvis inte mindre än 2,5 cm i omkrets, gjord av trådar som tvinnats eller flätats ihop.
Translated to Espanõl
Cuerda
Una cuerda es larga, resistente y no mide menos de un 2,54 cm de circunferencia, hecha de hebras giradas o entrelazadas entre sí.
Translated to Arabic
حبل
سلك كبير وسميك عادة لا يقل محيطه عن بوصة واحدة ومصنوع من خيوط ملتوية أو مضفرة معا.
Translated to France
Corde
Une corde est longue, solide et a au moins 2,54 cm de circonférence. La corde est faite de torons torsadés ou entrelacés.
Translated to Russian
Канат
Большой прочный шнур, обычно один не менее дюйма по окружности, сделанный из прядей, скрученных или сплетенных вместе.
Translated to Albanian
litar
Një kordon i madh, i gjerë, zakonisht jo më pak se një inç në perimetër, i bërë nga fijet e shtrembëruara ose të lidhura së bashku.