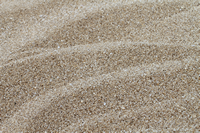 Active language
Translated to English
Sand
Fine particles of stone, esp. of siliceous stone, but not reduced to dust; comminuted stone in the form of loose grains, which are not coherent when wet.
Translated to Greek
Άμμος
Σωματίδια πέτρας, πχ. από πυριτική πέτρα, αλλά όχι υπό μορφή σκόνης; θρυμματισμένη πέτρα με τη μορφή χαλαρών κόκκων, οι οποίες δεν είναι συνεκτικές όταν είναι υγρές.
Translated to Swedish
Sand
Sand är ett kornigt material som består av finfördelade sten- och mineralpartiklar.
Translated to Espanõl
Arena
Es un material granular compuesto de rocas y partículas minerales muy pequeñas.
Translated to Arabic
رمل
اللرمل مادة حبيبة تتكون من صخور دقيقة وجزيئات معدنية
Translated to France
Sable
C'est un matériau granulaire composé de roches et de très petites particules minérales.
Translated to Russian
Песок
Мелкие частицы камня, особенно кремнистого камня, но не пыль; измельченный камень в виде рыхлых зерен, которые не слипаются во влажном состоянии.
Translated to Albanian
rërë
Rëra është një material kokrrizë i përbërë nga grimca shkëmbore dhe minerale të imëta.