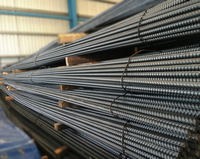 Active language
Translated to English
Rebar
is a steel bar or mesh of steel wires used in reinforced concrete and masonry structures to strengthen and hold the concrete in tension.
Translated to Greek
Οπλισμός
Είναι μια χαλύβδινη ράβδος ή πλέγμα χαλύβδινων συρμάτων που χρησιμοποιούνται σε οπλισμένο σκυρόδεμα και δομές τοιχοποιίας για την ενίσχυση και συγκράτηση του σκυροδέματος σε τάση.
Translated to Swedish
Bockningsverktyg för armeringsjärn
En stålstång eller nät av ståltrådar som används i armerad betong och murverk för att stärka och hålla betongen spänd.
Translated to Espanõl
Acero corrugado
Es una barra de metal o una malla de cables de acero utilizada para estructuras de cemento y albañilería reforzadas para reforzar y sostener el cemento en tensión.
Translated to Arabic
حديد التسليح
عبارة عن سيخ حديدي أو شبكة أو تعشيقة من الأسلاك الفولاذية المستخدمة في الخرسانة المسلحة وهياكل البناء لتقوية الخرسانة وبقائها مشدودة
Translated to France
Rebar
C'est une barre métallique ou d'un treillis métallique utilisé pour les structures en béton et de maçonnerie pour renforcer et soutenir le ciment sous contrainte.
Translated to Albanian
Pajisje
është një shufër çeliku ose rrjetë teli çeliku që përdoret në strukturat e betonit të armuar dhe muraturës për të përforcuar dhe ruajtur betonin në tension.