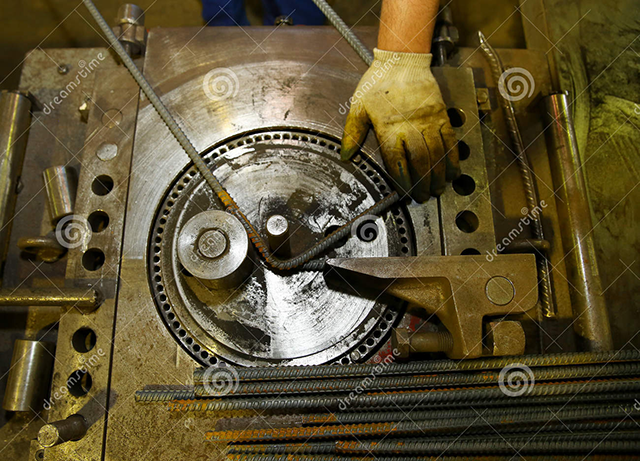 Active language
Translated to English
Rebar Bending
A bending tool is disclosed for bending rebar, rod, pipe, tubing and/or any other suitable material, comprising: at least one base, and; at least one lever-handle further comprising a user-end and a pivot-end and; a pivotal means for connecting the base and the pivot-end of the lever-handle with rotational freedom, and; a means for bending disposed on the pivot-end of the lever-handle.
Translated to Greek
Εργαλείο κάμψης οπλισμού
Ενα εργαλείο κάμψεως χρησιμοποιείται για την κάμψη της ράβδου, του σωλήνα και / ή οποιουδήποτε άλλου κατάλληλου υλικού, που περιλαμβάνει: τουλάχιστον μία βάση, τουλάχιστον μια χειρολαβή μοχλού που περιλαμβάνει περαιτέρω ένα άκρο χρήστη, ένα άκρο περιστροφής, ένα στρεφόμενο μέσο για τη σύνδεση της βάσης και του άκρου περιστροφής της χειρολαβής μοχλού με περιστροφική ελευθερία και ένα μέσο για κάμψη τοποθετημένο στο άκρο περιστροφής της λαβής-λαβής.
Translated to Swedish
Säckar och hinkar
Ett bockverktyg för att böja armeringsjärn, stång, rör, slang och/eller något annat lämpligt material
Translated to Espanõl
Dobladora de varilla
Es una herramienta para doblar varillas, varas, tuberías, tubos o/y otro material adecuado. Está compuesta de: al menos una base y una palanca de mano junto a un extremo para que lo utilice el usuario y una esquina.
Translated to Arabic
آلة تني حديد التسليح
أداة لثني حديد التسليح والقضبان والأنابيب أو أي مادة أخري مناسبة تشمل: قاعدة واحدة على الأقل، مقبض ذراع واحد على الأقل يشتمل على طرف للمستخدم وطرف محوري، وسيلة محورية لربط القاعدة والطرف المحوري التابع للمقبض بحرية الدوران، ووسيلة للثني مثبتة على الطرف المحوري للمقبض
Translated to France
Cintrage d'armature
C'est un outil pour plier des tiges, bâtons, tuyaux, tubes ou/et tout autre matériau approprié. Il se compose de: au moins une base et un levier à main sur le côté pour l'utilisateur à utiliser et un coin.
Translated to Russian
Гибочный инструмент для арматуры
Инструмент для изгиба арматурного стержня, трубы, трубки и/или любого другого подходящего материала, содержащего: по меньшей мере, одно основание и, по меньшей мере, одну рукоятку рычага, дополнительно содержащую конец пользователя и конец поворота и; поворотное средство для соединения основания и конца шарнирной ручки с возможностью вращения, и; средство для сгибания, расположенное на конце рукоятки рычага.
Translated to Albanian
mjet përthyes për pajisje
Një mjet lakimi përdoret për të përkulur shufrën, tubin dhe / ose çdo material tjetër të përshtatshëm, i cili përfshin: të paktën një bazë, të paktën një dorezë levë që përfshin më tej një fund përdoruesi, një fund rrotullimi, një mjet kthesash për të lidhur bazën dhe fundi rrotullues i levës së dorës me liri rrotulluese dhe një mjet lakimi të montuar në skajin rrotullues të dorezës.