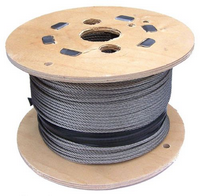 Active language
Translated to English
Tie Wire Reel
Tie wire is a soft metal wire commonly 16 gauge used during various stages of construction to secure different construction materials together.
Translated to Greek
Ράβδος σύρματος
Η ράβδος σύρματος είναι ένα μαλακό μεταλλικό σύρμα, το οποίο συνήθως χρησιμοποιείται σε διάφορα στάδια κατασκευής, για να ασφαλίζει διαφορετικά υλικά κατασκευής μαζί.
Translated to Swedish
Vajervinda
Vajer är en mjuk metalltråd som vanligtvis är 16 gauge och används under olika konstruktionssteg för att sätta fast olika konstruktionsmaterial med varandra.
Translated to Espanõl
Alambre
El alambre es un cable de metal de calibre 16 que se utiliza durante diferentes etapas de la construcción para amarrar conjuntamente diferentes materiales de la construcción.
Translated to Arabic
بكرة سلك البط
سلك الربط عبارة عن سلك معدني عيار 16 يستخدم خلال مراحل البناء المختلفة لتربط مواد البناء معا
Translated to France
Fil métallique
Le fil métallique est un fil en métal de calibre 16 qui est utilisé à différentes étapes de la construction pour relier différents matériaux de construction.
Translated to Russian
Барабан для наматывания вязальной проволоки
Вязальная проволока - это мягкая металлическая проволока, обычно 16 калибра, используемая на различных этапах строительства для скрепления различных строительных материалов.
Translated to Albanian
Shufra teli
Shufra teli është një tel metal i butë, i cili zakonisht përdoret në faza të ndryshme të ndërtimit, për të siguruar së bashku materiale të ndryshme ndërtimi.