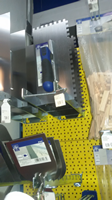 Active language
Translated to English
Plasters Scarifier
A plastering tool with tines (teeth) which is used to roughen or scarify basecoat plaster application prior to set. Promotes mechanical bond with the finish-coat plaster layer.
Translated to Greek
Εργαλείο επίστρωσης γύψου
Ένα οδοντωτό εργαλείο επίστρωσης γύψου το οποίο χρησιμοποιείται για την παραλαβή γύψου και την τοποθέτηση του. Προωθεί την τοποθέτηση σε στρώμα γύψου
Translated to Swedish
Tandspackel
Ett spackelverktyg med tänder som används för att förgrova eller harva grundlagret av gips. Ger mekanisk bindning med ytbeläggningens gipsskikt.
Translated to Espanõl
Escarificador para yeso
Una herramienta con púas (dientes) que se utiliza para escarificar la superficie del yeso antes de que seque. Permite una unión mejor con la capa de yeso final.
Translated to Arabic
أداة خدش الجص
أداة تجصيص بأسنان تستخدم لتخشين أو خدش الجص عند تطبيقه وقبل أن يجف. يعزز الترابط الميكانيكي مع طبقة الجص النهائية.
Translated to France
Scarificateur de plâtre
Un outil à dents utilisé pour scarifier la surface du plâtre avant qu'il ne sèche. Il permet une meilleure liaison avec la dernière couche de plâtre.
Translated to Russian
Гребень для штукатурки
Инструмент с зубьями, который используется для придания шероховатости базового покрытия перед нанесением. Способствует механическому сцеплению с финишным слоем штукатурки.
Translated to Albanian
Mjet i veshjes së suvasë
Një mjet i veshjes së dhëmbit të gipsit, i përdorur për marrjen dhe instalimin e gipsit. Promovon vendosjen e një shtrese suva