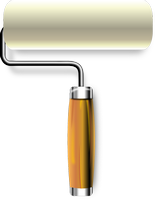 Active language
Translated to English
Rollers
An absorbent revolving cylinder attached to a handle, used to apply paint.
Translated to Greek
Ρολό βαψίματος
Ένας απορροφητικός περιστρεφόμενος κύλινδρος προσαρτημένος σε μια λαβή, που χρησιμοποιείται για την εφαρμογή βαφής.
Translated to Swedish
Färgroller
En absorberande roterande cylinder fäst vid ett handtag som används för att applicera färg.
Translated to Espanõl
Rodillo
Un cilíndro que se mueve y absorbe pintura que está sujeto a un mango. Se suele utilizar para pintar.
Translated to Arabic
رول الدهان
أسطوانة دوارة مثبتة علي مقبض، تُستخدم لتطبيق الطلاء
Translated to France
Rouleau
Un cylindre attachée à une poignée qui se déplace et absorbe la peinture. Il est généralement utilisé pour peindre.
Translated to Russian
Валик
Абсорбирующий вращающийся цилиндр, прикрепленный к рукоятке, используется для нанесения краски.
Translated to Albanian
cilindër
Një rul rrotullues me veti thithëse i bashkangjitur në një dorezë, e përdorur për të aplikuar bojë.