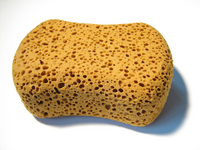 Active language
Translated to English
Sponges
A piece of a soft, light, porous absorbent substance originally consisting of the fibrous skeleton of an aquatic invertebrate but now usually made of synthetic material, used for washing and cleaning.
Translated to Greek
Σφουγγάρια
Ένα κομμάτι μαλακής, ελαφριάς, πορώδους απορροφητικής ουσίας που αποτελούνταν αρχικά από τον ινώδη σκελετό ενός υδρόβιου ασπόνδυλου, αλλά τώρα είναι συνήθως κατασκευασμένο από συνθετικό υλικό που χρησιμοποιείται για πλύσιμο και καθαρισμό.
Translated to Swedish
Svamp
En bit av ett mjukt, lätt, poröst absorberande ämne som ursprungligen består av det fibrösa skelettet från vattenlevande ryggradslösa djur, men som nu vanligtvis tillverkas av syntetiskt material, som används för tvätt och rengöring.
Translated to Espanõl
Esponja
Es un fragmento de una sustancia blanda, ligera y porosa absorbente. Originalmente estaba hecha del esqueleto fibroso de un invertebrado acuático, pero ahora normalmente está hecha de un material sintético, que se utiliza para lavar y limpiar.
Translated to Arabic
اسفنجة
قطعة من مادة ماصة ناعمة خفيفة مسامية كانت تتكون في الأصل من الهيكل العظمي الليفي للافقاريات المائية ولكن في أيامنا هذه تُصنع من مواد اصطناعية، تستخدم للغسيل والتنظيف
Translated to France
Éponge
C'est un fragment d'une substance douce, légère, poreuse et absorbante. À l'origine, elle était fabriquée à partir du squelette fibreux d'un invertébré aquatique, mais maintenant elle est normalement fabriquée à partir d'un matériau synthétique. Elle est utilisé pour le lavage et le nettoyage.
Translated to Russian
Губка
Кусок мягкого, легкого, пористого впитывающего вещества, первоначально состоящего из волокнистой структуры водного беспозвоночного, но в настоящее время обычно из синтетического материала, используемого для мытья и чистки.
Translated to Albanian
sfungjerë
Një pjesë e materialit me veti thithëse, të butë, të lehtë, poroz që fillimisht përbëhej nga skelet fibroze i një qënie ujore, por tani është bërë zakonisht nga një material sintetik që përdoret për larje dhe pastrim.