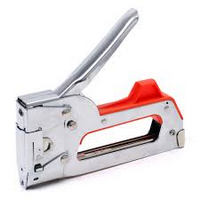 Active language
Translated to English
Staplers
A staple is a type of two-pronged fastener, usually metal, used for joining or binding materials together.
Translated to Greek
Συρραπτικά
Ένα συρραπτικό είναι ένας τύπος συνδετήρων δύο σκελών, συνήθως μέταλλο, που χρησιμοποιείται για την ένωση ή συγκόλληση υλικών μεταξύ τους.
Translated to Swedish
Märla
En märla är en typ av tvåpoligt fästelement, vanligtvis metall, som används för att sammanfoga eller binda samman material.
Translated to Espanõl
Grapadoras
Una grapa es un tipo de objeto con dos extremos de metal que se utiliza para unir dos materiales.
Translated to Arabic
دباسة
الدباسة نوع من أنواع المشابك ذات شقين، عادة ما تكون معدنية، تستخدم لضم أو ربط المواد معا
Translated to France
Agrafeuses
Une agrafe est un type d'objet avec deux extrémités métalliques qui est utilisé pour relier deux matériaux.
Translated to Russian
Степлер
Степлер - это тип двухстороннего крепежа, обычно металлического, который используется для соединения или скрепления материалов.
Translated to Albanian
makinë për ngulje kapësesh
është një mjet me dy këmbë, zakonisht metal, që përdoret për t'u bashkuar ose bashkuar materialet së bashku.