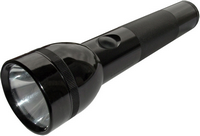 Active language
Translated to English
flashlight
a portable battery-powered electric lamp, small enough to be held in one hand; - it is most commonly cylindrical, but other forms are also made
Translated to Greek
φακός
Μια φορητή ηλεκτρική λάμπα που τροφοδοτείται με μπαταρία, αρκετά μικρή ώστε να κρατιέται στο ένα χέρι. - είναι συνήθως κυλινδρικό, αλλά κατασκευάζεται και σε άλλες μορφές
Translated to Swedish
Ficklampa
En bärbar batteridriven elektrisk lampa, liten nog att hållas i en hand, ofta cylindrisk, men finns även i andra former.
Translated to Espanõl
Linterna
Una lámpara portátil que funciona a pilas, lo suficientemente pequeña como para llevarse en la mano. Normalmente es cilíndrica, pero las hay en otras formas.
Translated to Arabic
كشاف
مصباح كهربائي محمول يعمل بالبطارية، صغير بما يكفي لحمله بيد واحدة، عادة اسطواني الشكل ولكن يُصنع أيضا بأشكال أخري
Translated to France
Lampe de poche
Une lampe portable à piles suffisamment petite pour être portée dans la main. Elle est généralement cylindrique, mais elle existe dans d'autres formes.
Translated to Russian
Фонарик
Переносная электрическая лампа на батарейках, достаточно маленькая, чтобы ее можно было держать в одной руке; - чаще цилиндрической формы
Translated to Albanian
lente
Një llambë dritë elektrike e lëvizshme me bateri, mjaft e vogël për të mbajtur në njërën dorë. - Zakonisht është cilindrike, por është bërë edhe në forma të tjera