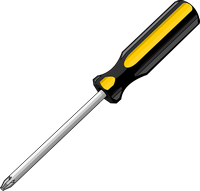 Active language
Translated to English
screwdriver
a hand tool for driving screws; has a tip that fits into the head of a screw
Translated to Greek
κατσαβίδι
Ένα εργαλείο χειρός για την οδήγηση βιδών. Έχει μια άκρη που χωράει στην κεφαλή μιας βίδας
Translated to Swedish
Skruvmejsel
Ett handverktyg för att skruva, har en spets som passar in i ett skruvhuvud
Translated to Espanõl
Destornillador
Una herramienta de mano que se utiliza para meter o sacar tornillos. Tiene una punta que encaja en la cabeza del tornillo.
Translated to Arabic
مفك
أداة يدوية لربط وفك البراغي، لديها طرف يلازم رأس البرغي
Translated to France
Tournevis
Un outil à main utilisé pour insérer ou retirer des vis. Il a une pointe qui s'insère dans la tête du vis.
Translated to Russian
Отвертка
Ручной инструмент для вкручивания винтов; имеет наконечник, который входит в головку винта
Translated to Albanian
kaçavidë
Një mjet dore për vida lëvizëse. Ka një tip që përshtatet në kokën e një vidhe