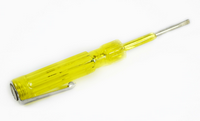 Active language
Translated to English
Voltage tester
is a piece of electronic test equipment used to determine the presence of electricity in a piece of equipment under test.
Translated to Greek
Δοκιμαστικό κατσαβίδι
Είναι ένα κομμάτι ηλεκτρονικού εξοπλισμού δοκιμών που χρησιμοποιείται για τον προσδιορισμό της παρουσίας ηλεκτρικής ενέργειας σε ένα κομμάτι εξοπλισμού υπό δοκιμή.
Translated to Swedish
Spänningsprovare
En elektronisk testutrustning som används för att bestämma hur mycket elektricitet som finns i en utrustning som testas.
Translated to Espanõl
Tensiómetro para electricidad
Es un aparato electrónico que se utiliza para determinar la presencia de electricidad en una pieza determinada.
Translated to Arabic
فاحص الجهد
نوع من معدات الاختبار الالكترونية المستخدمة لتحديد وجود الكهرباء في الوحدة تحت الاختبار
Translated to France
Tensiomètre pour l'électricité
C'est un appareil électronique qui est utilisé pour déterminer la présence d'électricité dans une certaine piece.
Translated to Russian
Индикатор напряжения
Электронное испытательное оборудование, используемое для определения наличия электричества в испытуемом оборудовании.
Translated to Albanian
kontrollues i tensionit
është një pjesë e pajisjeve elektronike të provës që përdoren për të përcaktuar praninë e energjisë elektrike në një pjesë të pajisjeve të provës.