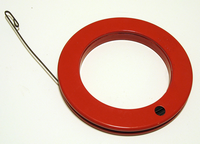 Active language
Translated to English
fish tape
is a tool used by electricians to route new wiring through walls and electrical conduit
Translated to Greek
ταινία ρεύματος
Είναι ένα εργαλείο που χρησιμοποιείται από ηλεκτρολόγους για τη δρομολόγηση νέων καλωδίων μέσω τοίχων και ηλεκτρικών αγωγών
Translated to Swedish
Fjäderstålband
Ett verktyg som används av elektriker för att leda nya ledningar genom väggar etc.
Translated to Espanõl
Guia de acero
Es una herramienta utilizada por los electricistas para poder llevar cables nuevos a través de paredes y conductos eléctricos.
Translated to Arabic
شريط توجيه السلك الكهربائي
أداة يستخدمها الكهربائيون لتوجيه الأسلاك الجديدة عبر الجدران والقنوات الكهربائية
Translated to France
Ruban de tirage
C'est un outil utilisé par les électriciens pour emmener des nouveaux câbles à travers les murs et les conduits électriques.
Translated to Russian
Протяжная проволока
Инструмент, используемый электриками для прокладки новой проводки через стены и короб для прокладки кабеля
Translated to Albanian
kasetë me tenia për izolime elektrike
është një mjet i përdorur nga elektricistët për të drejtuar kabllot e reja nëpër mure dhe instalime elektrike