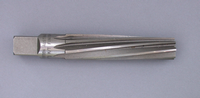 Active language
Translated to English
reamer
is a type of rotary cutting tool used in metalworking. Precision reamers are designed to enlarge the size of a previously formed hole by a small amount but with a high degree of accuracy to leave smooth sides.
Translated to Greek
τρυπάνι οπών
Είναι ένας τύπος περιστροφικού εργαλείου κοπής που χρησιμοποιείται στη μεταλλουργία. Ακροφύσια ακριβείας έχουν σχεδιαστεί για να αυξάνουν το μέγεθος μίας προηγούμενης οπής σε μικρή ποσότητα, αλλά με υψηλό βαθμό ακρίβειας για να αφήνουν τις ομαλές πλευρές.
Translated to Swedish
Brotsch
En typ av roterande skärverktyg som används i metallbearbetning. Precisionsbrotschar är utformade för att förstora storleken på ett tidigare format hål lite grann, men med en hög grad av noggrannhet för att lämna släta sidor.
Translated to Espanõl
Escariador
Es un tipo de herramienta circular que se usa en la metalurgia. Los escariadores de precisión se utilizan para aumentar el tamaño de agujeros previamente formados de una manera muy exacta y con la intención de suavizar el agujero previo.
Translated to Arabic
مخرطة
نوع من أنواع أدوات القطع الدوارة المستخدمة في الحدادة. تم تصميم المخرطة الدقيقة لكي تقوم بتكبير حجم ثقب تم تكوينه قليلا مسبقا بدرجة عالية من الدقة وبجوانب ملساء
Translated to France
Alésoir
C'est un type d'outil circulaire utilisé en métallurgie. Les alésoirs de précision sont utilisés pour augmenter la taille des trous préformés de manière très précise et dans le but de lisser le trou précédent.
Translated to Russian
Ступенчатое сверло
Тип вращающегося режущего инструмента, используемого в металлообработке. Предназначен для небольшого увеличения размера ранее сформированного отверстия, но с высокой степенью точности, чтобы оставить гладкие стороны.
Translated to Albanian
maja Shpuese
është një lloj mjeti prerës rrotullues që përdoret në metalurgji. Grykë preçize janë krijuar për të rritur madhësinë e një vrime të mëparshme në një sasi të vogël, por me një shkallë të lartë saktësie për të lënë anët e lëmuara.