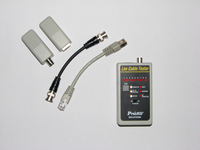 Active language
Translated to English
Electrical Network & Cable Testers
is an electronic device used to verify the electrical connections in a signal cable or other wired assembly.
Translated to Greek
Ηλεκτρικά δίκτυα & δοκιμαστές καλωδίων
Είναι μια ηλεκτρονική συσκευή που χρησιμοποιείται για την επαλήθευση των ηλεκτρικών συνδέσεων σε καλώδιο σήματος ή σε άλλο ενσύρματο συγκρότημα.
Translated to Swedish
Elektrisk nätverks- och kabelprovare
En elektronisk enhet som används för att verifiera de elektriska anslutningarna i en signalkabel eller annan kabelanslutning.
Translated to Espanõl
Tester
Es un aparato electrónico que se utiliza para comprobar las conexiones eléctricas en un cable o circuito eléctrico.
Translated to Arabic
أجهزة اختبار الشبكات الكهربائية والكابلات
جهاز الكتروني يستخدم لفحص التوصيلات الكهربائية في كابل الإشارة أو أي مجموعة سلكية أخري
Translated to France
Multimètre
C'est un appareil électronique utilisé pour vérifier les connexions électriques dans un câble ou un circuit électrique.
Translated to Russian
Устройство для проверки кабеля электросети
Электронное устройство, используемое для проверки электрических соединений в сигнальном кабеле или другой проводной системе.
Translated to Albanian
Rrjetet elektrike dhe Testuesit e Kabllove
është një pajisje elektronike, e përdorur për të verifikuar lidhjet elektrike me një kabllo sinjali ose kompleksi tjetër me tel.