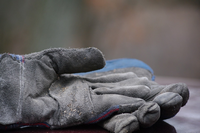 Active language
Translated to English
Gloves
A protective cover for the hand, or for the hand and wrist, with a separate sheath for each finger
Translated to Greek
Γάντια
Ένα προστατευτικό κάλυμμα για το χέρι ή για το χέρι και τον καρπό, με ξεχωριστή θήκη για κάθε δάκτυλο
Translated to Swedish
Handskar
Skyddshölje för handen eller handen och handleden, med separat "balja" för varje finger
Translated to Espanõl
Guantes
Una protección para las manos, o para las manos y muñecas, con una funda para cada uno de los dedos.
Translated to Arabic
قفازات
غطاء واق لليد أو لليد والمعصم بغلاف منفصل لكل اصبع.
Translated to France
Gants
Une protection pour les mains, ou pour les mains et les poignets, avec une housse pour chacun des doigts.
Translated to Russian
Перчатки
Защитный чехол для руки или для кисти руки с отделением для каждого пальца
Translated to Albanian
dorashka
Një mbulesë mbrojtëse për dorën, ose për dorën dhe kyçin e dorës, me një mbështjellës të veçantë për secilin gisht