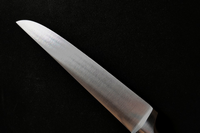 Active language
Translated to English
Stripping pliers
These are small, rounded cutters which will cut the plastic insulation around a wire to remove it without damaging the wire.
Translated to Greek
Πένσες απογύμνωσης
Πρόκειται για μικρούς, στρογγυλεμένους κόπτες που κόβουν την πλαστική μόνωση γύρω από ένα σύρμα για να το αφαιρέσουν χωρίς να καταστρέψουν το καλώδιο.
Translated to Swedish
Kabelskalare
Små runda tänger som skär bort plastisolationen runt en tråd för att ta bort den utan att skada tråden.
Translated to Espanõl
Alicate pelacables
Son alicates pequeños que cortan el aislante alrededor de un cable de manera que no dañe el cable.
Translated to Arabic
كماشات تعرية الأسلاك
قواطع صغيرة مستديرة لقطع العازل البلاستيكي حول السلك دون إتلاف السلك
Translated to France
Pince à dénuder
Ce sont de petites pinces qui coupent l'isolant autour d'un câble sans endommager le câble.
Translated to Russian
Щипцы для зачистки изоляции
Небольшие закругленные ножи, которые обрезают пластиковую изоляцию вокруг провода, чтобы удалить ее не повредив провод.
Translated to Albanian
Pincë zhveshëse
Këto janë hapëse të vogla, të rrumbullakosura që shkurtojnë izolimin plastik rreth një teli për ta hequr atë pa dëmtuar kabllon.