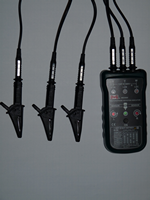 Active language
Translated to English
3-phase tester
Is a simple and robust tester allowing the detection of a voltage on a line and the order of the phases.
Translated to Greek
Μετρητής τριφασικού ρεύματος
Είναι ένας απλός και ανθεκτικός ελεγκτής που επιτρέπει την ανίχνευση μιας τάσης σε μια γραμμή και τη σειρά των φάσεων.
Translated to Swedish
3-fasmätare
En enkel och robust mätare som möjliggör detektering av en spänning på en linje och fasernas ordning.
Translated to Espanõl
Probador de rotación de 3 fases
Es un aparato sencillo y robusto que permite detectar el voltaje y el orden de las fases.
Translated to Arabic
فاحص تيار الثلاثي الأطوار
فاحص بسيط وقوي يسمح باكتشاف الجهد على خط ما وترتيب الأطوار
Translated to France
Testeur de tension triphase
C'est un appareil simple et robuste qui permet de détecter la tension et l'ordre des phases.
Translated to Russian
3-фазный тестер
Простой и надежный тестер, позволяющий определять напряжение на линии и порядок фаз.
Translated to Albanian
Testues 3-fazor
është një kontrollues i thjeshtë dhe i qëndrueshëm që lejon zbulimin e një tensioni në një rresht dhe serinë e fazave.