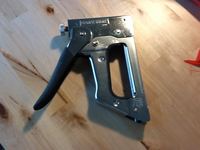 Active language
Translated to English
Staple gun
a hand-held machine used to drive heavy metal staples into wood, plastic, or masonry.
Translated to Greek
συραπτικό
Ένα φορητό μηχάνημα που χρησιμοποιείται για τη μεταφορά συνδετήρων βαρέων μετάλλων σε ξύλο, πλαστικό ή τοιχοποιία.
Translated to Swedish
Häftpistol
En handhållen maskin för att driva in tunga metallklamrar i trä, plast eller murverk
Translated to Espanõl
Grapadora automática
Un aparato de manos que se utiliza para clavar grapas de metal pesadas en madera, plástico o en otro material de albañilería.
Translated to France
Agrafeuse automatique
Un appareil portable utilisé pour enfoncer des agrafes de métaux lourdes dans le bois, le plastique ou tout autre matériau de maçonnerie.
Translated to Russian
Строительный степлер
Ручная машина, используемая для скрепления тяжелыми металлическими скобами таких материалов, как дерево, пластик или каменная кладка.
Translated to Albanian
kapse
Një makinë portative që përdoret për të transportuar kapse metalike të rëndë në dru, plastikë ose murature.