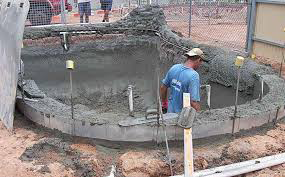 Active language
Translated to English
Shotcrete
Shotcrete, gunite or sprayed concrete is concrete or mortar conveyed through a hose and pneumatically projected at high velocity onto a surface, as a construction technique, first used in 1914. It is typically reinforced by conventional steel rods, steel mesh, or fibers.
Translated to Greek
σκυρόδεμα
Το ενισχυμένο σκυρόδεμα, το οπλισμένο σκυρόδεμα ή το ψεκασμένο σκυρόδεμα είναι σκυρόδεμα ή κονίαμα που μεταφέρεται μέσα από έναν εύκαμπτο σωλήνα και εκτοξεύεται με αέρα με μεγάλη ταχύτητα πάνω σε μια επιφάνεια, ως τεχνική κατασκευής, που χρησιμοποιήθηκε για πρώτη φορά το 1914. Τυπικά ενισχύεται από συμβατικές χαλύβδινες ράβδους, χαλύβδινα πλέγματα ή ίνες.
Translated to Swedish
Sprutbetong
Betong eller murbruk som transporteras genom en slang och pneumatiskt projiceras med hög hastighet på en yta, som en konstruktionsteknik, som användes första gången 1914. Den förstärks vanligtvis av konventionella stålstänger, stålnät eller fibrer.
Translated to Espanõl
Hormigón proyectado
El hormigón proyectado es cemento o mortero que se expulsa a través de una manguera a gran velocidad hacia una superficie. Es una técnica de construcción, utilizada por primera vez en 1914. Se suele reforzar con varas de acero, malla de acero o fibra.
Translated to Arabic
خرسانة مرشوشة
الخرسانة المرشوشة أو الغونيت هي الخرسانة أو الملاط التي تُنقل من خلال خرطوم ويتم اسقاطها بطريقة هيدروليكية وبسرعة هائلة علي سطح ما، كتقنية بناء، وقد استخدمت لأول مرة في عام ١٩١٤ وعادة يتم تدعيمها بواسطة القضبان الحديدية التقليدية أو شبكة قولاذية أو الألياف
Translated to France
Béton projeté
Le béton projeté est du ciment ou du mortier qui est éjecté par un tuyau à grande vitesse vers une surface. C'est une technique de construction, utilisée pour la première fois en 1914. Il est généralement renforcé avec des tiges d'acier, des mailles d'acier ou de fibre.
Translated to Russian
Торкрет-беон
Торкрет-бетон - это бетон или строительный раствор, который подается через шланг и наносится на поверхность под высоким давлением, этот метод впервые был использован в 1914 году. Обычно его армируют обычными стальными стержнями, стальной сеткой или волокнами.
Translated to Albanian
Beton
Betoni i përforcuar, betoni i përforcuar ose betoni i spërkatur është betoni ose llaçi që transportohet përmes një soline dhe qëllohet në ajër me shpejtësi të lartë në një sipërfaqe, si teknikë ndërtimi, e përdorur për herë të parë në vitin 1914. Në mënyrë tipike është e përforcuar nga ato konvencionale. shufra çeliku, rrjeta çeliku ose fije.