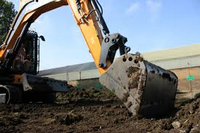 Active language
Translated to English
Excavation
Excavation is the process of moving earth, rock or other materials with tools, equipment or explosives. It includes earthwork, trenching, wall shafts, tunneling and underground. Excavation has a number of important applications including exploration, environmental restoration, mining and construction
Translated to Greek
εκσκαφή
Η εκσκαφή είναι η διαδικασία της μετακίνησης γης, πετρωμάτων ή άλλων υλικών με εργαλεία, εξοπλισμό ή εκρηκτικά. Περιλαμβάνει χωματουργικές εργασίες, τοποθέτηση τάφρων, τοίχους, σήραγγες και υπόγεια. Η ανασκαφή έχει πολλές σημαντικές εφαρμογές, όπως η εξερεύνηση, η περιβαλλοντική αποκατάσταση, η εξόρυξη και η κατασκευή
Translated to Swedish
Utgrävning
Utgrävning är processen för att flytta jord, sten eller annat material med verktyg, utrustning eller sprängämnen. Det inkluderar jordbearbetning, diken, väggschakt, tunnlar och under jorden. Grävningen har ett antal viktiga tillämpningar inklusive prospektering, miljöåterställning, gruvdrift och konstruktion.
Translated to Espanõl
Excavar
Consiste en mover tierra, rocas u otros materiales con herramientas, equipación o explosivos. Una excavación puede ser un terraplén, una zanja, un túnel...La excavación tiene muchos usos, como por ejemplo, la exploración, restauración medioambiental, minería y construcción.
Translated to Arabic
حفر
الحفر هو عملية تحريك التربة أو الصخور أو المواد الأخري بواسطة أدوات أو معدات أو متفجرات. يشمل أعمال الحفر والخنادق وتثبيت الجدران والأنفاق الأعمال تحت الأرض. الحفر له عدد من التطبيقات الهامة بما في ذلك الاستكشاف والإصلاح البيئي والتعدين والبناء
Translated to France
Fouiller
Déplacer de la terre, des roches ou d'autres matériaux avec des outils, du matériel ou des explosifs. Une excavation peut être un remblai, un fossé, un tunnel...L'excavation a de nombreuses utilisations, comme l'exploration, la restauration de l'environnement, l'exploitation minière et la construction.
Translated to Russian
Экскаваторные работы
Экскаваторные работы - это процесс перемещения земли, камня или других материалов с помощью инструментов, оборудования или взрывчатых веществ. Он включает в себя земляные работы, рытье траншей, настенные шахты, прокладку туннелей и подземные работы. Экскаваторные работы имеют ряд важных применений, включая разведку, восстановление окружающей среды, добычу полезных ископаемых и строительство.
Translated to Albanian
gërmim
Gërmimi është procesi i lëvizjes së tokës, shkëmbinjve ose materialeve të tjera me mjete, pajisje ose eksploziv. Ai përfshin punimet tokësore, shtrimin e llogoreve, muret, tunelet dhe bodrumet. Gërmimet kanë shumë aplikime të rëndësishme, të tilla si eksplorimi, restaurimi i mjedisit, minierat dhe ndërtimet.