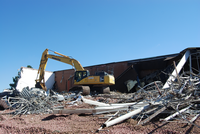 Active language
Translated to English
Clean up jobsite debris
Clean up after a job request, recycling and disposal of used roofing materials, and moving and proper storage of construction tools and materials
Translated to Greek
απομάκρυνση συντριμμιών
Απομάκρυνση, ανακύκλωση και εναπόθεση χρησιμοποιημένων υλικών στέγης, εργαλείων και υλικών κατασκευής
Translated to Swedish
Städa upp byggavfall
Att städa upp efter ett arbete, återvinning och bortskaffande av använda takmaterial och flyttning och korrekt förvaring av byggverktyg och material
Translated to Espanõl
Quitar los escombros del lugar de trabajo.
Limpiar después de haber realizado un trabajo, reciclar los materiales, deshacerse de los materiales utilizados para el tejado, y mover y guardar las herramientas y materiales de construcción.
Translated to Arabic
تنظيف موقع العمل من المخلفات
تنظيف بعد انتهاء العمل المطلوب وإعادة التدوير والتخلص من مواد التسقيف المستخدمة ونقل وتخزين سليم لأدوات ومواد البناء
Translated to France
Retirez les débris du lieu de travail.
Nettoyer une fois les travaux terminés, recycler les matériaux, éliminer les matériaux de toiture et déplacer et stocker les outils et les matériaux de construction.
Translated to Russian
Уборка мусора на рабочей площадке
Очистка после работ, переработка и утилизация использованных кровельных материалов, а также перемещение и надлежащее хранение строительных инструментов и материалов
Translated to Albanian
Pastroni mbeturinat e vendeve të punës
Largimi, riciklimi dhe asgjësimi i materialeve të përdorura për çati, mjetet dhe materialet e ndërtimit