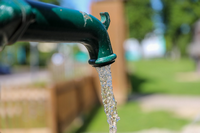 Active language
Translated to English
water
Water is a transparent, tasteless, odorless, and nearly colorless chemical substance, which is the main constituent of Earth's streams, lakes, and oceans, and the fluids of most living organisms.
Translated to Greek
Νερό
Το νερό είναι μια διαφανής, άγευστη, άοσμη και σχεδόν άχρωμη χημική ουσία, η οποία αποτελεί το κύριο συστατικό των ρευμάτων, των λιμνών και των ωκεανών της Γης και των υγρών των περισσότερων ζωντανών οργανισμών.
Translated to Swedish
Vatten
Vatten är en transparent, smaklös, luktfri och nästan färglös kemisk substans, som är den huvudsakliga beståndsdelen i jordens floder, sjöar och hav, och vätskorna i de flesta levande organismer.
Translated to Espanõl
Agua
El agua es una sustancia química transparente, insípida, inodora y casi sin color, que constituye los arroyos, lagos, océanos y los fluidos de la mayoría de organismos vivos.
Translated to Arabic
مياه
الماء مادة كيمائية شفافة، لا طعم لهل، عديمة الرائحة وعديمة اللون تقريبا وهي المكون الأساسي للسيول والبحيرات والمحيطات وسوائل معظم الكائنات الحية على وجه الأرض
Translated to France
Eau
L'eau est un produit chimique transparent, insipide, inodore et presque incolore qui constitue les ruisseaux, les lacs, les océans et les fluides de la plupart des organismes vivants.
Translated to Russian
Вода
Вода - это прозрачное, безвкусное, без запаха и почти бесцветное химическое вещество, которое является основным компонентом земных потоков, озер и океанов, а также жидкостей большинства живых организмов.
Translated to Albanian
Ujë
Uji është një substancë kimike transparente, pa shije, pa erë dhe gati pa ngjyrë, e cila është përbërësi kryesor i rrjedhave, liqeneve dhe oqeaneve të Tokës dhe lëngjet e shumicës së organizmave të gjallë.