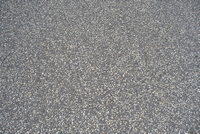 Active language
Translated to English
Asphalt
A composition of bitumen, pitch, lime, and gravel, used for forming pavements, and as a water-proof cement for bridges, roofs, etc.; asphaltic cement. Artificial asphalt is prepared from coal tar, lime, sand, etc
Translated to Greek
Άσφαλτος
Μια σύνθεση πίσσας, ασβέστη και χαλικού, που χρησιμοποιείται για τη διαμόρφωση πεζοδρομίων και ως υδατοστεγές τσιμέντο για γέφυρες, στέγες, κ.λπ. Η τεχνητή άσφαλτος παρασκευάζεται από λιθανθρακόπισσα, ασβέστη, άμμο κλπ
Translated to Swedish
Asfalt
En kombination av bitumen, beck, kalksten och grus, som används som beläggning och som vattensäker cement för broar, tak, etc; asfaltisk cement. Konstgjord asfalt utvinns ur stenkolstjära, kalk, sand etc.
Translated to Espanõl
Asfalto
Un compuesto de betún, brea, caliza y gravilla que se utiliza para pavimentar, y como cemento impermeable para puentes, tejados, etc.
Translated to Arabic
أسفلت
الاسمنت الأسفلتي تركيبة من البيتومين والجير والحصي تستخدم لتشكيل الأرصفة وكأسمنت مقاوم للماء في الجسور، الأسقف، الخ. الاسفلت الاصطناعي يتم تحضيره من قطران الفحم والجير والرمل وغيرها.
Translated to France
Asphalte
Un composé de bitume, de poix, de calcaire et de gravier utilisé pour le pavage et comme ciment imperméable pour les ponts, les toits, etc.
Translated to Russian
Асфальт
Смесь битума, смолы, извести и гравия, используемая для формирования тротуаров, а также в качестве водостойкого цемента для мостов, крыш и т. д .; асфальтовый цемент. Искусственный асфальт готовят из каменноугольной смолы, извести, песка и т. д.
Translated to Albanian
Asfalt
Një përbërje e bitumit, katranit, gëlqeres dhe zhavorrit, e përdorur për formimin e trotuareve, dhe si një çimento i papërshkueshëm nga uji për ura, çati, etj .; çimento asfaltike. Asfalti artificial përgatitet nga katrani i qymyrit, gëlqere, rëra, etj