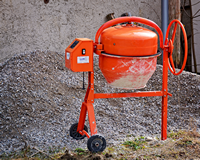 Active language
Translated to English
Concrete mixers
Is a device that homogeneously combines cement, aggregate such as sand or gravel, and water to form concrete. A typical concrete mixer uses a revolving drum to mix the components.
Translated to Greek
Πρόσμικτα σκυροδέματος
Είναι μια συσκευή ομογενοποίησης του τσιμέντου, των συσσωματωμάτων άμμου ή χαλικιού και του νερού για το σχηματισμό σκυροδέματος. Ένας τυπικός αναμικτήρας σκυροδέματος που χρησιμοποιεί ένα περιστρεφόμενο τύμπανο για να αναμείξει τα υλικά.
Translated to Swedish
Betongblandare
En maskin som blandar cement, massa så som sand eller grus och vatten för att skapa betong. En typisk betongblandare använder en snurrande trumma för att blanda ämnena.
Translated to Espanõl
Hormigoneras
Es un aparato que combina de manera homogénea cemento, y agregados como pueden ser arena o gravilla, y agua para formar cemento. Una hormigonera típica utiliza un tambor giratorio para mezclar los componentes.
Translated to Arabic
خلاط الخرسانة
جهاز خالط يمزج بشكل متجانس الاسمنت والركام مثل الرمل أو الحصي والمياه لتشكيل الخرسانة. خلاط الخرسانة التقليدي يستخدم أسطوانة دوارة لخلط المكونات
Translated to France
Bétonnières
C'est un appareil qui combine de manière homogène du ciment et des agrégats tels que le sable ou le gravier, et de l'eau pour former du ciment. Une bétonnière classique utilise un tambour rotatif pour mélanger les composants.
Translated to Russian
Бетономешалка
Устройство, в котором смешивают цемент, заполнитель, такой как песок или гравий, и воду для образования бетона. Типичная бетономешалка - в виде вращающегося барабана для смешивания компонентов.
Translated to Albanian
Aditivë të betonit
është një pajisje që kombinon në mënyrë homogjene çimento, grumbullime të tilla si rërë ose zhavorr, dhe ujë për të formuar beton. Një mikser tipik betoni përdor një daulle rrotulluese për të përzier komponentët.