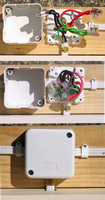 Active language
Translated to English
junction boxes
It consists of a square box or housing that provides protection and a safety barrier for electrical connections. These boxes are made from metal or plastic and form part of your home or other building's electrical wiring system.
Translated to Greek
Κουτιά διακλάδωσης καλωδίων ρεύματος
Αποτελείται από τετράγωνο κιβώτιο ή περίβλημα που παρέχει προστασία και φράγμα ασφαλείας για ηλεκτρικές συνδέσεις. Αυτά τα κουτιά κατασκευάζονται από μέταλλο ή πλαστικό και αποτελούν μέρος του ηλεκτρικού καλωδίου του κτιρίου.
Translated to Swedish
Kopplingsbox
Består av en fyrkantig låda eller hölje som skyddar och agerar säkerhetsbarriär för elektriska kopplingar. Lådorna är gjorda av metall eller plast och är en del av ditt hems eller andra byggnaders elsystem.
Translated to Espanõl
Caja de conexión
Consiste en una caja cuadrada o espacio que proporciona protección y es una barrera para las conexiones eléctricas. Estas cajas están hechas de metal o plástico y forma parte del sistema eléctrico de tu casa o de otro edificio.
Translated to Arabic
صناديق التوزيع الكهربائي
يتكون من صندوق مربع أو غطاء لحماية وكحاجز أمان للتوصيلات الكهربائية. هذه الصناديق مصنوعة من المعدن أو البلاستيك وتشكل جزء من الشبكة الكهربائية في منزلك أو أي مبني آخر.
Translated to France
Boîtier de raccordement.
C'est une boîte ou un espace carré qui offre une protection et constitue une barrière pour les connexions électriques. Ces boîtiers sont en métal ou en plastique et font partie du système électrique de votre maison ou d'autre bâtiment.
Translated to Russian
Распределительная коробка
Состоит из квадратной коробки или корпуса, который обеспечивает защиту и защитный барьер для электрических соединений. Эти коробки сделаны из металла или пластика и являются частью электрической проводки дома или другого здания.
Translated to Albanian
Kutitë e degës së kordonit të energjisë
Përbëhet nga një kuti katrore ose strehimi që siguron mbrojtje dhe një pengesë sigurie për lidhjet elektrike. Këto kuti janë bërë prej metali ose plastike dhe janë pjesë e sistemit të instalimeve elektrike të shtëpisë tuaj ose ndërtesës tjetër.