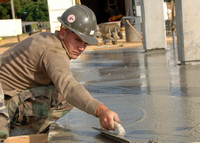 Active language
Translated to English
Screeds
Flat board (screed board, floating screed) or a purpose-made aluminium tool used to smooth and true materials like concrete, stucco and plaster after it has been placed on a surface or to assist in flattening
Translated to Greek
Δοκοί
Επίπεδη σανίδα (σανίδα σκυροδέματος, πλωτή επίστρωση) ή ειδικά σχεδιασμένο αλουμινένιο εργαλείο που χρησιμοποιείται για την επιπεδοποίηση/ομαλοποίηση υλικών όπως το σκυρόδεμα, ο στόκος και ο γύψος μετά την τοποθέτησή τους σε επιφάνεια
Translated to Swedish
Golvavstrykarplatta
Ett verktyg som används för att jämna till och avpassa material som betong, stuck och bruk efter att det placerats på en yta, eller för att hjälpa till att platta till det
Translated to Espanõl
Llana
Una tabla plana o una herramienta de aluminio que se utiliza para suavizar y nivelar materiales como cemento, estuco y yeso una vez han sido puestos en una superficie. También sirve para aplanar dichos materiales.
Translated to Arabic
السكريد
لوح مسطح (لوح التسوية، لوح التعديل) أو أداة ألمنيوم مصممة خصيصا لتنعيم وتصحيح المواد مثل الخرسانة والجص والجبس بعد وضعها على سطح أو للمساعدة علي التسطيح
Translated to France
Règle à dresser
C'est une planche plate ou un outil en aluminium utilisé pour lisser et niveler les matériaux tels que le ciment, le stuc et le plâtre une fois qu'ils ont été placés sur une surface. Elle sert également à aplatir ces matériaux.
Translated to Russian
Разравнивающая рейка
Плоская доска (стяжка, плавающая стяжка) или специальный алюминиевый инструмент, используемый для выравнивания и обработки таких материалов, как бетон или штукатурка, после того, как они были размещены на поверхности, или для облегчения выравнивания
Translated to Albanian
Trarë
Bordi i sheshtë (tabela e betonit, bordi lundrues) ose një mjet alumini i dizajnuar posaçërisht i përdorur për rrafshimin / zbutjen e materialeve siç janë betoni, stuko dhe suva pasi janë hedhur në sipërfaqe