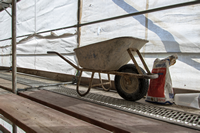 Active language
Translated to English
Wheelbarrows
A light vehicle for conveying small loads. It has two handles and one wheel, and is rolled by a single person.
Translated to Greek
Καρότσια οικοδομής
Ένα ελαφρύ όχημα για τη μεταφορά μικρών φορτίων. Έχει δύο λαβές, ένα τροχό, και ρολάρεται από ένα μόνο άτομο.
Translated to Swedish
Skottkärra
Ett rullverktyg för små laster. Det har två handtag och ett hjul och rullas av en person.
Translated to Espanõl
Carretilla
Un vehículo ligero que se utiliza para llevar cargas pequeñas. Tiene dos asas y una rueda, y una sola persona puede manejarlo.
Translated to Arabic
عربات اليد
عربة خفيفة لنقل الأحمال الصغيرة لها مقبضان وعجلة واحدة ويدحرجها شخص واحد
Translated to France
Brouette
Un véhicule léger utilisé pour transporter des petites charges. Elle a deux poignées et une roue et une seule personne peut le manipuler.
Translated to Russian
Тачка
Легкая тележка для перевозки небольших грузов, на одном колесе, которую возят, держа за ручки и толкая перед собой.
Translated to Albanian
Karroca ndërtimi
Një automjet i lehtë për transmetimin e ngarkesave të vogla. Ajo ka dy doreza dhe një rrotë, dhe perdoret nga një person i vetëm.