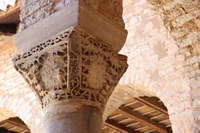 Active language
Translated to English
Gypsum cornice moulding
A gypsum cornice is generally any horizontal decorative molding that crowns a building or furniture element
Translated to Greek
γείσο γυψοσανίδας
Το μέρος του καπέλου της γυψοσανίδας που εξέχει πάνω από το πρόσωπο της
Translated to Swedish
Takstuckatur av gips
En stuckatur av gips är i allmänhet alla horisontella dekorativa gjutningar som krönar en byggnad eller ett möbelelement
Translated to Espanõl
Moldes para cornisas de yeso
Una cornisa de yeso es generalmente cualquier moldura decorativa horizontal que corona un edificio o elemento mobiliario.
Translated to France
Moules à corniche en plâtre
Une corniche à plâtre est, généralement, toute moulure décorative horizontal qui couronne un bâtiment ou un élément mobilier.
Translated to Russian
Гипсовый карниз
Гипсовый карниз – это вид горизонтальной декоративной лепнины, который украшает элементы здания или мебели.
Translated to Albanian
formimi i gurit të gipsit
Pjesa e kapelës së plasterit që zgjat mbi fytyrën e saj