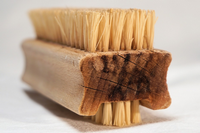 Active language
Translated to English
Brushes
An instrument composed of bristles, or other like material, set in a suitable back or handle, as of wood, bone, or ivory, and used for various purposes, as in removing dust from clothes, laying on colors, etc. Brushes have different shapes and names according to their use; as paint brush etc.
Translated to Greek
Βούρτσες
Ένα όργανο που αποτελείται από τρίχες ή άλλο παρόμοιο υλικό, τοποθετημένο σε κατάλληλη πλάτη ή χειρολαβή, όπως από ξύλο, κόκκαλο ή ελεφαντόδοντο, και χρησιμοποιείται για διάφορους σκοπούς όπως η αφαίρεση σκόνης από ρούχα, η τοποθέτηση σε χρώματα κλπ. Οι βούρτσες έχουν διαφορετικό σχήμα και όνομα ανάλογα με τη χρήση τους ως πινέλο κ.λπ.
Translated to Swedish
Borste, pensel
Ett instrument sammansatt av borst eller annat liknande material, med handtag av trä, ben eller elfenben, och som används för olika ändamål, som att ta bort damm från kläder, stryka på färger, etc. Borstar har olika former och namn enligt deras användning; som pensel etc.
Translated to Espanõl
Cepillos
Un instrumento compuesto de cerdas u otro material que están colocadas en una superficie o asa, de madera, hueso o marfil, que se utiliza para varios fines, como quitar polvo de la ropa, pintar, etc. Las brochas pueden tener diferentes formas y nombres según su uso; como por ejemplo, brocha de pintar, etc.
Translated to Arabic
فرش
أداة تتكون من شعيرات، أو مواد أخري مماثلة، مثبتة في قاعدة أو مقبض مناسب من الخشب أو العظم أو العاج وتستخدم لأغراض مختلفة، على سبيل المثال لإزالة الغبار من الملابس والتلوين، الخ. والفرش أشكال وأسماء مختلفة حسب استخدامها مثل فرشاة الطلاء، الخ
Translated to France
Brosse
Un instrument en poils ou autre matériau placé sur une surface ou une poignée en bois, en os ou en ivoire, qui est utilisé à diverses fins, comme l'époussetage des vêtements, la peinture, etc. Les brosses peuvent avoir différentes formes et noms selon leur utilisation: comme un pinceau, etc.
Translated to Russian
Кисть/щетка
Инструмент, состоящий из пучка щетинок или другого подобного материала, прикрепленный на подходящую ручку из дерева, кости или слоновой кости, и используемый для различных целей, например, для удаления пыли с одежды, нанесения краски и т. д. Щетки имеют разные формы и названия в зависимости от цели их использования; например, кисть и т. д.
Translated to Albanian
furçë
Një instrument i bërë nga flokët ose nga një material tjetër i ngjashëm, i montuar në një shpinë ose dorezë të përshtatshme, siç është druri, kocka ose fildishi, dhe që përdoret për qëllime të ndryshme si heqja e pluhurit nga rrobat, vendosja në bojëra, etj. Brushat kanë një formë të ndryshme dhe emër në varësi të përdorimit të tyre si furça etj.