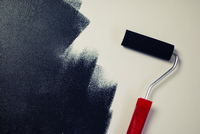 Active language
Translated to Greek
ρολό βαφής
Ένα ρολό βαφής είναι ένα εργαλείο εφαρμογής βαφής που χρησιμοποιείται για τη γρήγορη και αποτελεσματική βαφή μεγάλων επίπεδων επιφανειών. Το ρολό βαφής αποτελείται συνήθως από δύο μέρη: ένα "πλαίσιο κυλίνδρου" και ένα "κάλυμμα κυλίνδρου".
Translated to Espanõl
Rodillo
Un rodillo es una herramienta que se utiliza para pintar superficies grandes y planas de manera rápida y eficiente. El rodillo normalmente está compuesto de dos partes: el mango del rodillo en sí, y la parte que se sumerge en pintura, el rodillo.
Translated to Russian
Малярный валик
Малярный валик - это инструмент для нанесения краски, используемый для быстрой и эффективной покраски больших плоских поверхностей. Малярный валик обычно состоит из двух частей: «кронштейна» и «ролика».
Translated to Albanian
Roller për bojëra
Një rul i bojës është një mjet për aplikimin e bojës që përdoret për të pikturuar sipërfaqe të mëdha të sheshta me shpejtësi dhe efikasitet. Ruletë me bojë zakonisht përbëhen nga dy pjesë: një "kornizë rrotullimi" dhe "një mbulesë rrotulluese".