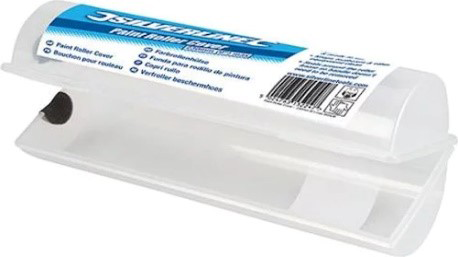 Active language
Translated to English
Roller Cover
The roller cover is a cylindrical core with a pile fabric covering secured to the cylindrical core. The roller cover absorbs the paint and transfers it to the painted surface, the roller frame attaches to the roller cover. A painter holds the roller by the handle section.
Translated to Greek
Κάλυμμα κυλίνδρου βαφής
Το κάλυμμα κυλίνδρου είναι ένας κυλινδρικός πυρήνας με ένα πέλος που καλύπτει ασφαλισμένο στον κυλινδρικό πυρήνα. Το κάλυμμα κυλίνδρου απορροφά το χρώμα και το μεταφέρει στη βαμμένη επιφάνεια, το πλαίσιο κυλίνδρου συνδέεται με το κάλυμμα κυλίνδρου. Ένας ελαιοχρωματιστής κρατά τον κύλινδρο από το τμήμα λαβής.
Translated to Swedish
Rolleröverdrag
Rolleröverdraget är en cylindrisk kärna med ett belägg av "luggtyg" som är fäst vid den cylindriska kärnan. Rolleröverdraget absorberar färgen och överför den till den målade ytan, rollerhandtaget fästs på rullskyddet. Målaren håller rollern i handtagsdelen.
Translated to Espanõl
Rulo del rodillo
El rulo del rodillo es un objeto cilíndrico hecho de un tejido que absorbe la pintura y la transfiere a la superficie deseada. El rulo del rodillo se acopla a la estructura del rodillo. Un pintor sujeta el rodillo por el mango.
Translated to France
Le rouleau du rouleau
Le rouleau du rouleau est un objet cylindrique fait d'un tissu qui absorbe la peinture et la transfère à la surface souhaitée. Le rouleau se fixe sur la structure du rouleau. Un peintre tient le rouleau par la poignée.
Translated to Russian
Ролик малярного валика
Ролик представляет собой цилиндрическую насадку с ворсовым тканевым покрытием, закрепленным на цилиндрическом сердечнике. Ролик впитывает краску и переносит ее на поверхность, ролик надевается на кронштейн. Маляр держит его за ручку.
Translated to Albanian
mbulesë për roller
Mbulesa e cilindrit është një bërthamë cilindrike me një grumbull që mbulon bërthamën e siguruar të cilindrit. Mbulesa e rrotullës thith bojën dhe e transferon atë në sipërfaqen e pikturuar, korniza e rulit është e lidhur me kapakun e rrotullës. Një bojaxhi mban cilindrin nga seksioni i dorezës.