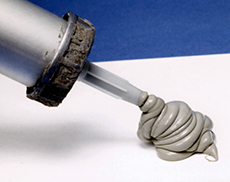 Active language
Translated to English
Sealants & Caulking Gun
Is a tool that holds a tube or cartridge that's filled with material used for sealing up gaps and cracks in the home.
Translated to Greek
σφραγιστικά όπλα - πιστόλια σφραγιστικών ουσιών
Είναι ένα εργαλείο που κρατά έναν σωλήνα ή μια ταινία γεμάτη με υλικό που χρησιμοποιείται για τη στεγανοποίηση κενών και ρωγμών στο σπίτι.
Translated to Swedish
Fogmassa och tätningspistol
Ett verktyg som innehåller ett rör eller patron som innehåller material som används för att täta hål och sprickor i hemmet
Translated to Espanõl
Selladores y pistolas selladoras
Es una herramienta que sostiene un cartucho lleno del material que se utiliza para sellar agujeros y grietas.
Translated to Arabic
مسدس السدادات - موانع التسرب
أداة تحمل أنبوبة أو خرطوشة مملوءة بالمادة المستخدمة لسد الفجوات والشقوق في المنزل
Translated to France
Scellants et pistolets à sceller
C'est un outil qui contient une cartouche remplie du matériau utilisé pour sceller les trous et les fissures.
Translated to Russian
Герметики и шприц для уплотнения швов
Инструмент, который содержит трубку или картридж, заполненный материалом, используемым для герметизации зазоров и трещин в доме.
Translated to Albanian
Kutitë dhe vulosësit
është një mjet që mban një tub ose fishek që është i mbushur me material të përdorur për mbylljen e boshllëqeve dhe çarjeve në shtëpi.